Red Trio of Sweets
Item #
MIM-236-RD3001-1813806254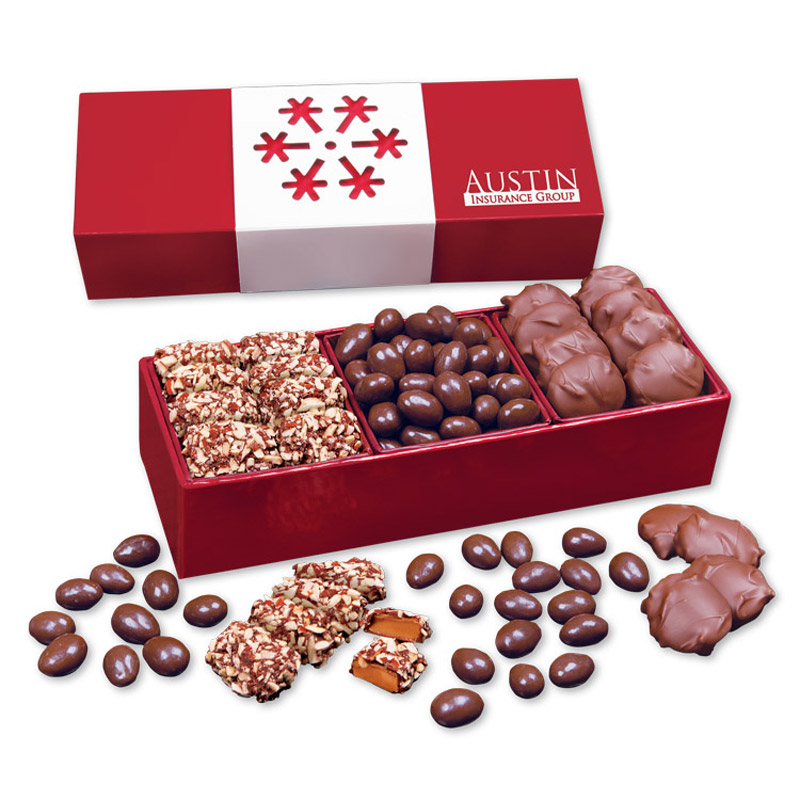 Our red Trio of Sweets contains 12 pieces of English Butter Toffee, made with plenty of pure, dairy-fresh butter; 12 mouth-watering Pecan Turtles; and approximately 40 Chocolate Covered Almonds. With one full pound of premium chocolate, this makes a wonderful gift for every chocolate lover. Your logo is foil-stamped in white on the gift box.
Supplier Name
Maple Ridge
Approximate Production Time
5 Working Days
Setup Charge
Set-up charge: $50 (C).
Imprint Includes
Price includes imprint foil-stamped in white on red gift box.
Additional Notes I
Ingredient Box: English Butter Toffee, 5 oz. (12 pieces)Pecan Turtles, 6 oz. (12 pieces)Chocolate Covered Almonds, 5 oz.
Additional Notes II
Maximum size for enclosure cards: 3.5" x 5".
Additional Notes III
Individual mailing carton is included at no charge.
Additional Notes IV
Express Ship: Contact factory.