Ultimate Cookie & Brownie Tower
Item #
MIM-236-GS8606-1813806254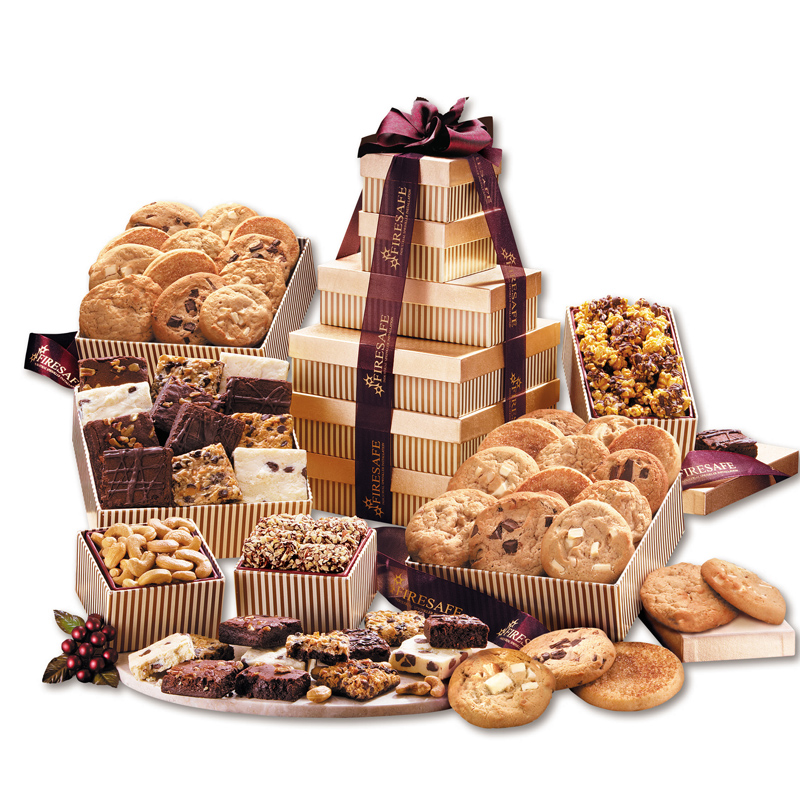 Here's the perfect gift for a large office! This Paul Bunyan-sized tower is packed with one-dozen fudge-like brownies... Double Chocolate, White Chocolate Raspberry, Chocolate Pecan, and Chocolate Butterscotch Coconut; two-dozen home-style cookies... Chocolate Chunk, Snicker-doodle, and White Chocolate Macadamia. We also include some traditional Maple Ridge Farms favorites... five-ounces each of our signature English Butter Toffee, fresh-roasted Extra Fancy Jumbo Cashews, and our Chocolate & Sea Salt Caramel Corn. The reusable, elegant gold striped boxes are tied together with a sheer burgundy ribbon bearing your logo. Serves 15-20.
Supplier Name
Maple Ridge
Approximate Production Time
5 Working Days
Setup Charge
Set-up charge: $50 (C).
Imprint Includes
Price includes imprint foil-stamped in gold on sheer burgundy ribbon.
Additional Notes I
Ingredient Box: (3) Double Chocolate Brownies(3) White Chocolate Raspberry Brownies(3) Chocolate Pecan Brownies(3) Chocolate Butterscotch Coconut Brownies(8) Chocolate Chunk Cookies(8) Snickerdoodles(8) White Chocolate Macadamia CookiesEnglish Butt
Additional Notes II
Baked goods should be enjoyed within 2 weeks; or stored in a freezer for up to 3 months. Instructions for storage are included with each gift.
Additional Notes III
Individual mailing carton is included at no charge.
Additional Notes IV
Express Ship: Contact factory.